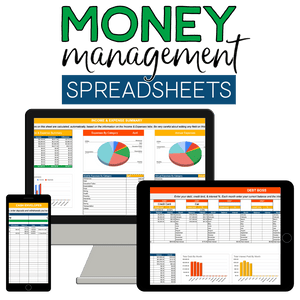 Money Management Spreadsheets - For Google Sheets
Regular price $28.00 Sale
The Money Management Spreadsheet System is Done-for-You Google Spreadsheets to help you manage your money well by showing you exactly what you're spending your money on and providing resources to track it all.
Money Management Spreadsheets

The Money Management Spreadsheet System is a digital product to help you plan, record, and track your money.
The Money Management System includes the following spreadsheets:
Budget
Income
Expenses
Income & Expense Summary
Checking Account Register
Savings Account Register
Cash Envelopes
Sinking Funds
Debt Boss
Here's what you'll love about the Money Management Spreadsheets:
Automatic Calculations so you don't have to do the math.
Visuals so you can SEE if you're on track.
The confidence you need to finally take control of your finances because you have a plan.
Easy communication about money because your money facts are laid out, in an easy to understand way!
Let's take a closer look at what the Spreadsheets can do for you!
Enter your Income and Expenses and let the spreadsheets do the math for you!
Create a Budget to put together your financial puzzle and KNOW when you can handle an extra expense.
Record deposits and withdrawals from your Cash Envelopes so you can SEE where your cash went.
Create Sinking Funds and record the deposits and withdrawals so you are ready for yearly or one time expenses.
Track your debt and how much interest you pay, each month, to motivate you to get it paid off.
Stuff You Need To Know
This is a digital product. No physical item will be mailed.
The Money Management Spreadsheets are for personal use only.
>>> Due to the digital nature of this item, there are no refunds.