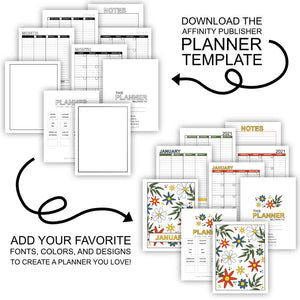 Affinity Publisher Planner Template
Regular price $14.00 Sale
Are you ready to create a planner using the fonts and colors you like most but need the planner structure done for you? The Planner Template is here to guide you on your journey to planner perfection! 
CREATE A PLANNER YOU LOVE!

Affinity Publisher Planner Template
USE THE PLANNER TEMPLATE FOR PERSONAL OR COMMERCIAL USE
Whether you want to create a planner just for you or to sell to others, this planner template is for YOU!
LEARN HOW TO USE MASTER PAGES
The Planner Template comes with Master Pages and tutorials on how to use them. Master Pages make your work go much quicker ... it's kind of like magic!
DOWNLOAD PLANNER ASSETS YOU CAN USE OVER AND OVER AGAIN
Planner Assets are drag and drop resources you can use throughout your planner and on future projects too!
DISCOVER THE CAPABILITIES OF AFFINITY PUBLISHER
While you work through your Planner Template, you will learn a lot of the capabilities of Affinity Publisher, along the way!
DO I HAVE TO KNOW HOW TO USE AFFINITY PUBLISHER?
The Planner Template tutorial will teach you a LOT about Affinity Publisher, if you've never used it before. As you walk through the steps to create your own planner, you will learn how to import templates and assets, create a color menu, work with master pages and assets, customize pages, save your planner as a PDF document, plus SO MUCH MORE!
It's a bit of a sneaky way to get you comfortable with Affinity Publisher so you will be confident to create MORE printables, on your own!
ABOUT THE PLANNER TEMPLATE CREATOR
Bridget is a work at home mom of two young adults and the wife of a middle school principal. She created Sunshine And Rainy Days in an effort to inspire domestic engineers to make every day full of sunshine and happiness! DIY's and Printables are her jam and she loves to teach everything she knows!
What You Need To Use This Planner Template
This planner template was created using Affinity Publisher.
You NEED Affinity Publisher to transform your planner template into your very own work of art!
Stuff You Need To Know
This is a digital product. Nothing will be mailed.
This Affinity Publisher Planner Template is for anyone who would like to create their own planner for personal or commercial use.
You may create your own PDF from this template and sell the PDF on your blog.
You may NOT sell this template to others.
This template is meant to be transformed into your own unique creation and, because of this, it will be sold to an unlimited number of buyers.
>>> Due to the digital nature of this item, there are no refunds.