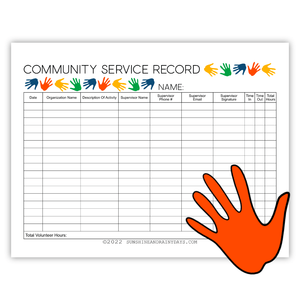 Community Service Record (PDF)
The absolutely best community service ideas are the ones where your passions meet your talents to serve the community where you live! This Community Service Record will help you log your community service hours so you can concentrate on doing the work!
What Is On The Community Service Record PDF
The Community Service Record is a one page PDF document you can print, right at home! It includes the following columns:
Date

Organization Name
Description Of Activity
Supervisor Name
Supervisor Phone #
Supervisor Email
Supervisor Signature
Time In
Time Out
Total Hours
Log your community service hours on one convenient sheet that you can carry with you and give to your school, when complete!
Stuff You Need To Know
This is a digital product. Nothing will be mailed.
The Community Service Record is for personal use only. 
>>> Due to the digital nature of this item, there are no refunds.