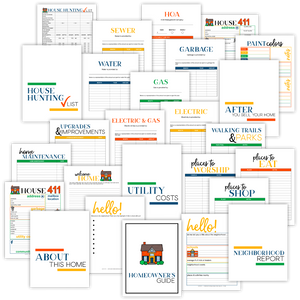 Homeowner's Guide (PDF)
The Homeowner's Guide is an excellent home staging resource to make your house STAND OUT from the rest! Leave it on the entry table or kitchen island so potential buyers can learn more about your home and neighborhood!
Then, when you sell your house, leave the Homeowner's Guide for the new owner!
What's In The Homeowner's Guide?
Binder Cover

Spine Insert
Divider Tab Inserts For AVERY 11907 Dividers
Hello Page - To share highlights of your home and neighborhood.

About This Home Cover Page
Welcome Letter Template - Write a letter to potential home buyers to let them know a little about your family!

House 411
Home Maintenance
Upgrades & Improvements
Utility Costs Cover Page
Electric & Gas
Electric
Gas
Water
Sewer
Garbage
HOA
Neighborhood Report Cover Page
Hello - Tell potential buyers a little bit about your neighborhood.
Places To Eat
Places To Shop
Places To Worship
Walking Trails & Parks
House Hunting Checklist Cover Page
House Hunting Checklist
After You Sell Your Home Cover Page
Welcome Home Letter Template - To write a personalized letter to your new home buyer!
House 411 - With information only the home buyer should receive.
Paint Colors
Stuff You Need To Know
This is a digital product. Nothing will be mailed.
The Homeowner's Guide is for personal use only.
>>> Due to the digital nature of this item, there are no refunds.