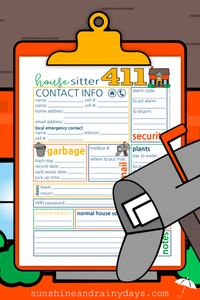 House Sitter 411 (PDF)
Are you heading out of town and need to leave the House Sitter the 411 on your house? 
House Sitter 411 (PDF)
House Sitter 411 is a one page PDF that prompts you for the information you need to leave for your house sitter.
House Sitter 411 provides space for:
contact info
emergency contact
security system info
garbage day info
mail info
when to water plants
vacation dates
WIFI password
spare key location
normal house sounds
notes
Fill it out and vacation in peace!
The House Sitter 411 is included in The Big Book Of Everything For Pets.
Stuff You Need To Know
This is a digital product. Nothing will be mailed.
House Sitter 411 is for personal use only.
>>> Due to the digital nature of this item, there are no refunds.