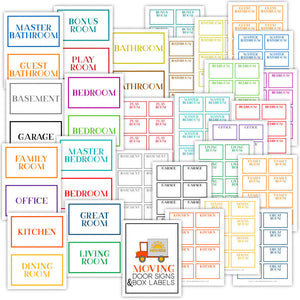 Moving Door Signs And Box Labels (PDF)
For the ultimate, organized, move ... color coordinated door signs and box labels will help your movers know exactly WHERE to place moving boxes. This will save you time and frustration, when it comes time to unpack!
Moving Door Signs & Box Labels
1) Box Labels - Every box you pack needs to be labeled.
Whether you use a Sharpie to write, right on the box, or you use labels, it's important to know where each box should go, in your new home. This means you label the boxes with the room you would like them to go in, in your new home … not the room they were in, in your old home.
Print the box labels on full sheet sticker paper or regular paper. If you use regular paper, be sure to tape them down on all sides so they don't come off, when stacking boxes. 
As you pack, place the appropriate labels on each box. You may choose to also write the contents of that box, on the label.
2) Door Signs - Door Signs help movers!
Print the door signs on card stock, cut in half, and tape to the doors, in your new home, so movers will know where to place boxes. This will make unpacking much easier!
The Moving Door Signs & Box Labels Printable Pack includes door signs and labels for the following rooms:
Kitchen

Dining Room
Great Room
Living Room
Family Room
Office
Master Bedroom
Bedroom
Bedroom
Bedroom
Master Bathroom
Guest Bathroom
Bathroom
Bathroom
Bonus Room
Playroom
Basement
Garage
Print just the ones you need and as many box labels as you need, for each room!
Stuff You Need To Know
This is a digital product. Nothing will be mailed.
The Moving Door Signs & Box Labels are for personal use only.
>>> Due to the digital nature of this item, there are no refunds.